UPWAA and Can Protect Foundation organized a health camp and breast and cervical cancer awareness camp for the families of police personnel and women police personnel on 5th March 2023 on the occasion of International Women's Day at Police Lines Haridwar. The objective of the camp was to provide free health services to women including breast and cervical cancer awareness, gynaecological check-ups and other medical facilities. Dr Sumita Prabhakar along with her team of four other doctors examined more than 200 women from police families and women police personnel.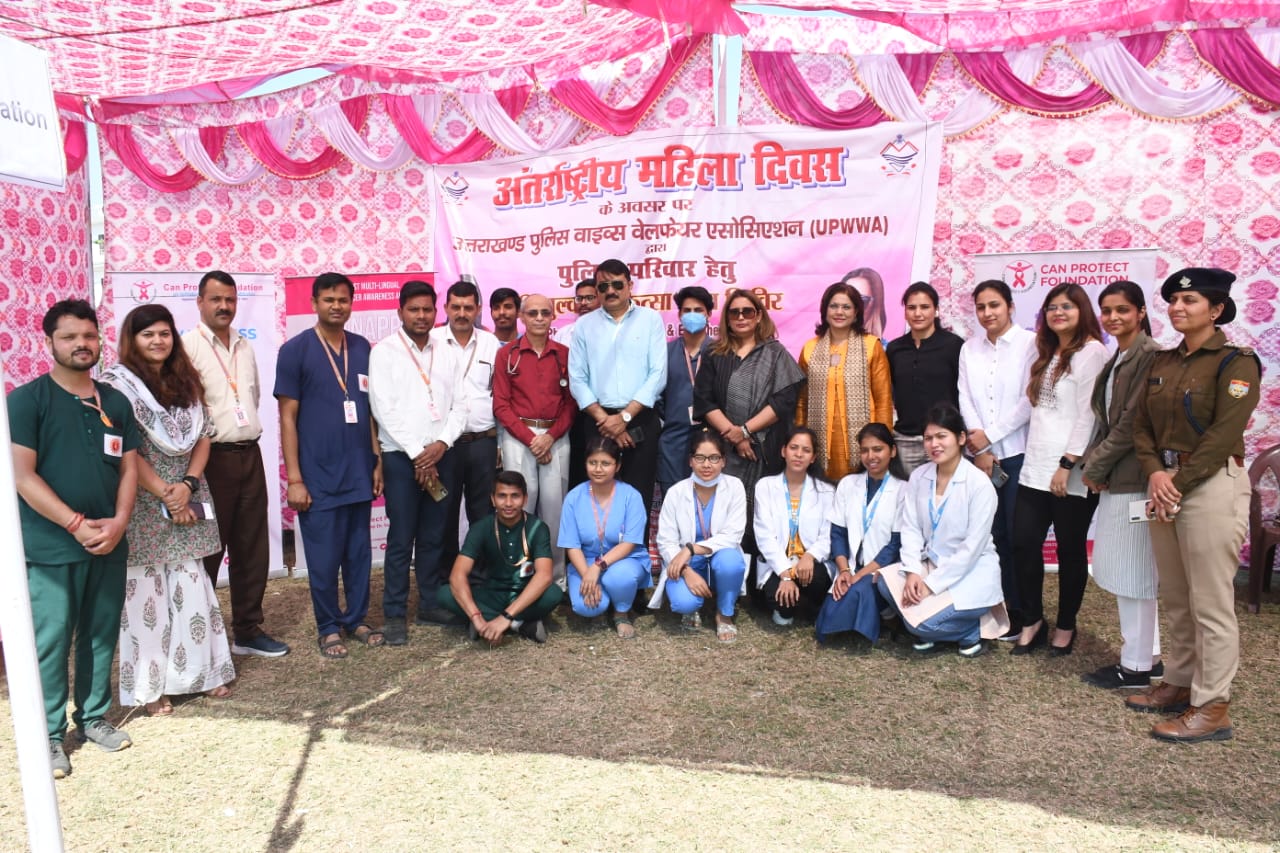 During breast check-ups, abnormal symptoms were found in some women, and doctors advised further check-ups. Facilities like blood sugar, haemoglobin, blood pressure gynaecological check-up and breast check-up were provided in the camp, while Swami Vivekananda Trust provided eye check-ups, general practitioner consultations and medicines.
Dr Sumita Prabhakar the President, of Can Protect Foundation, CMI Hospital, Dehradun, gave a health talk on preventive health care and cancer awareness for women. She highlighted the importance of the Made in India HPV vaccine, which will soon be available in India and will be available at a much lower cost than the current vaccine. Dr Prabhakar said that this is a step towards Atmanirbhar Bharat and urged the government to promote HPV vaccination in schools for girls aged 9 to 14 years for the prevention of cervical cancer.

Asha ki Kiran Awards
In this program, many eminent women of society were honoured by the Can Protect Foundation with the Asha ki Kiran award. City Magistrate Nupur Verma, CJM Sangeeta Arya, Mayor Anita Sharma, IPS Rekha Yadav SP Crime, Pallavi Tyagi CO Roorkee, Niharika Semwal CO Jwalapur and Smt Deepali Singh were among the women honoured with Asha ki Kiran Awards. Dr Sumita Prabhakar requested all these women to inform more and more women about the Can App and make women aware of breast cancer.
SSP Haridwar Mr. Ajay Singh felicitated Dr Sumita Prabhakar and her team of doctors for organizing a health camp for police personnel.
The team of Dr Monika Singh, Dr Shreya Devedi, Dr Pooja Singh, Pradeep Aswal and Swami Vivekananda Trust were present in the program.
We extend our heartfelt gratitude to SSP Haridwar Police, Mr. Ajay Singh for his unwavering support and encouragement in organizing this healthcare initiative for women. Your dedication to the welfare of the community is an inspiration to us all, and we are grateful for the opportunity to collaborate with the Haridwar Police under your guidance. Thank you for your valuable contribution to making this event a success.
Thank you again to all the doctors, volunteers, Swami Vivekananda Trust, and police personnel who dedicated their time and expertise to make this health camp and breast and cervical cancer awareness program a success. Your contributions have made a significant impact on the lives of many women and their families, and we are truly grateful for your support.