Breast Cancer Awareness Month in India In October, several programs are being organized by the Can Protect Foundation for breast cancer awareness and early diagnosis.
Free Breast Screening Camp For Early Diagnosis of Breast Cancer
Dr Sumita Prabhakar, President Can Protect Foundation is organizing a free breast screening camp for women for early diagnosis of breast cancer throughout the month of October at CMI Hospital, Dehradun. In the breast screening camp, the facility of clinical breast examination, thermo mammogram, eye breast exam, and mammogram is being provided by gynaecologists in the discounted areas.

Breast Cancer Education In Schools
Can Protect Foundation is organizing breast cancer workshops for cancer education and awareness in schools. Recently, a breast cancer prevention workshop was organized for children and their mothers at Sunrise Academy, Dehradun. In this, children are given information about the risk of breast cancer, early detection, symptoms of breast cancer, the health of young women, etc.
Breast Cancer Awareness App, Canapp
All the teachers and staff of Chandravati Tiwari Public School Dehradun downloaded Breast Cancer Awareness CAN App developed by Can Protect Foundation on their mobiles. breast cancer app women are learning self-breast test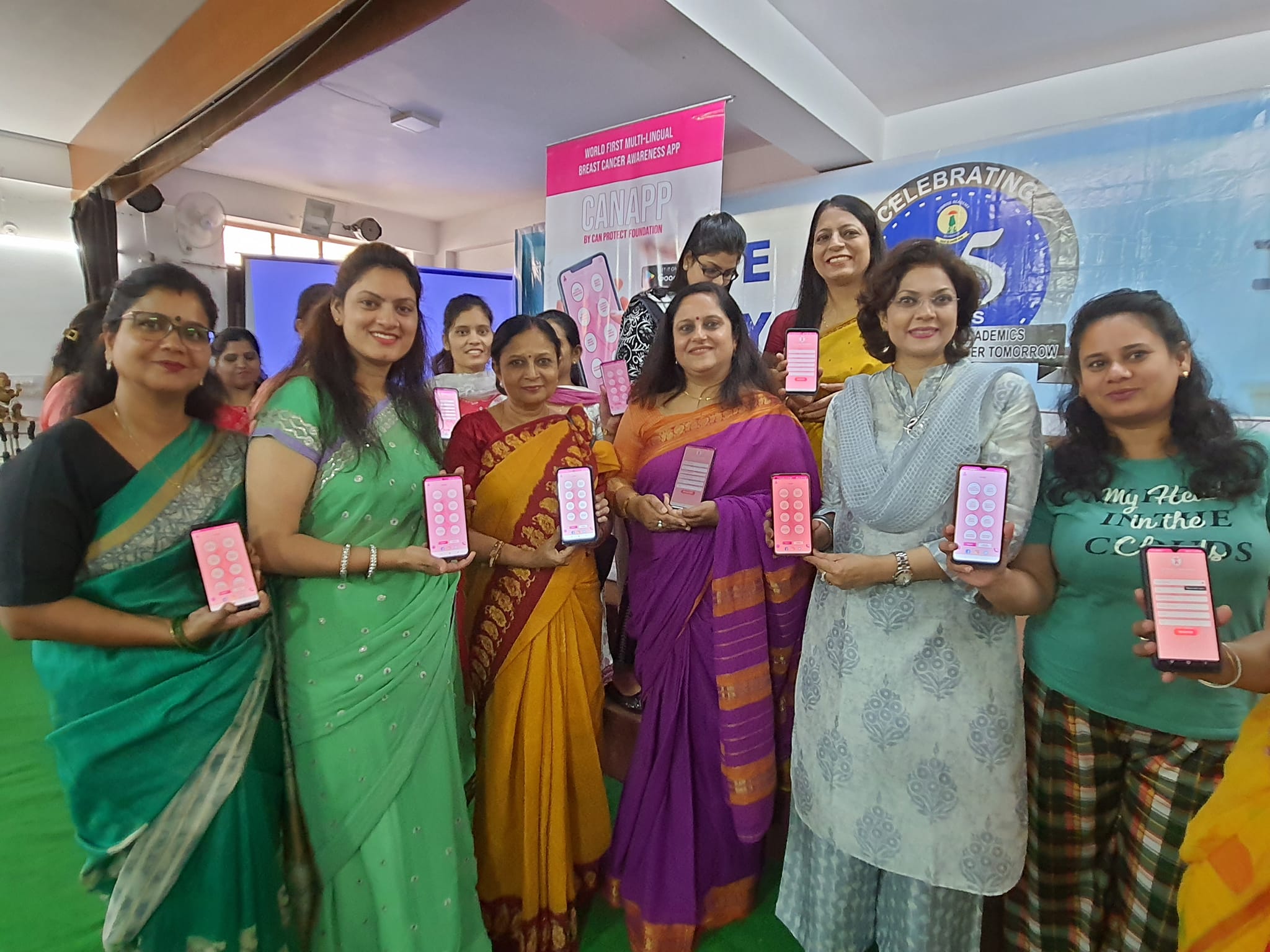 There are a few things you need to know to understand what breast cancer is. The key to breast cancer prevention is knowing what is likely to happen, and how to find it early. Early detection of breast cancer is essential because it becomes easier to treat when it is detected early. You can also download the CAN app to know more about the common symptoms of breast cancer.
What is breast cancer?
Breast cancer is a disease in which the cells in the breast grow out of control. Cancer cells can also spread or metastasize to other parts of the body.
Breast Cancer Symptoms
Some warning signs of breast cancer are:
New lump in the breast or armpit (armpit).
Thickening or swelling of part of the breast.
Burning or dimples in the skin of the breast.
Redness or flaky skin in the nipple area or breast.
Pulling the nipple in.
Nipple discharge other than breast milk, including blood.
Any change in the size or shape of the breast.
Breast pain.
These symptoms can occur with other conditions that are not cancer. If you see or feel any of these symptoms, consult a doctor immediately.