To commemorate International Women's Day, Can Protect Foundation held a workshop at Uttaranchal University in Dehradun on breast and cervical cancer awareness on March 6, 2021. The workshop's theme was 'Future of Women's Health Breast and Cervical Cancer Awareness,' with the goal of dispelling misconceptions and educating students and faculty about the early symptoms of breast and cervical cancer.  Topics like Breast and cervical cancer risk factors and positive lifestyle changes that can be made to reduce risk, Nutrition, Proper breast self-examination (BSE) techniques, involving the use of the fingertip pads, three different pressures, and an organized search pattern, Breast and cervical cancer myths and fears, General information on breast cancer and cervical cancer, Mammogram guidelines, Pap Smear test, HPV virus and The importance of and different strategies of early detection were covered during the workshop.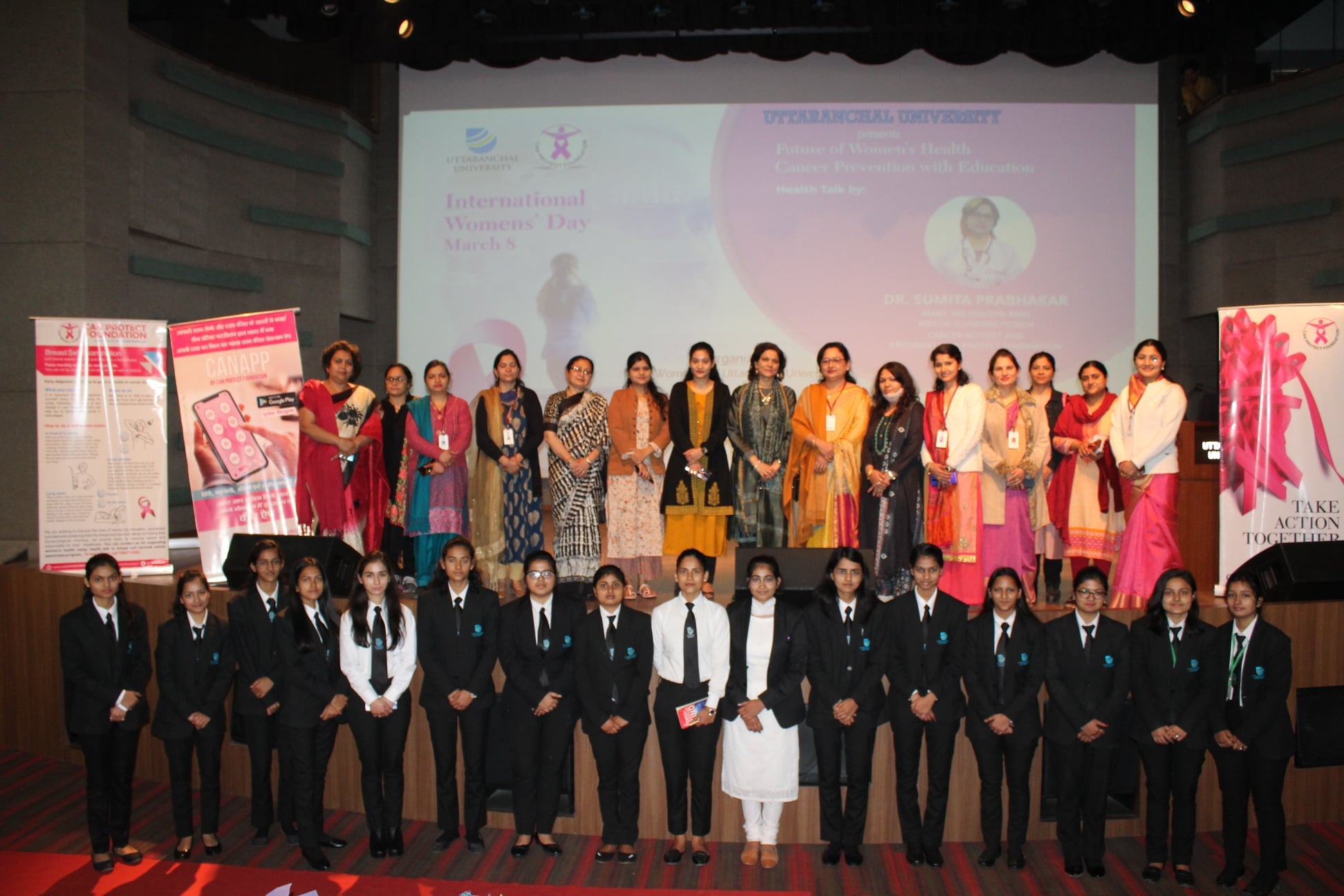 The event was inaugurated by President of Can Protect Foundation and senior Gynecologist Dr. Sumita Prahakar, Hon'ble Chancellor Mr. Jitender Joshi, Vice-Chancellor Prof. (Dr.) Devender Pathak, Dean – School of Liberal Arts Prof. (Dr.) Shriya Goyal, Chairperson – Women Cell, Prof. (Dr.) Poonam Rawat, Chairperson – Women Sexual Harassment Redressal Committee, Prof. (Dr.) Bharti Ramola, Chairperson Student Grievance Redressal Cell Prof. (Dr.) Sonal Sharma along with the Guests Dr. Deepika Rana and Dr. Pooja.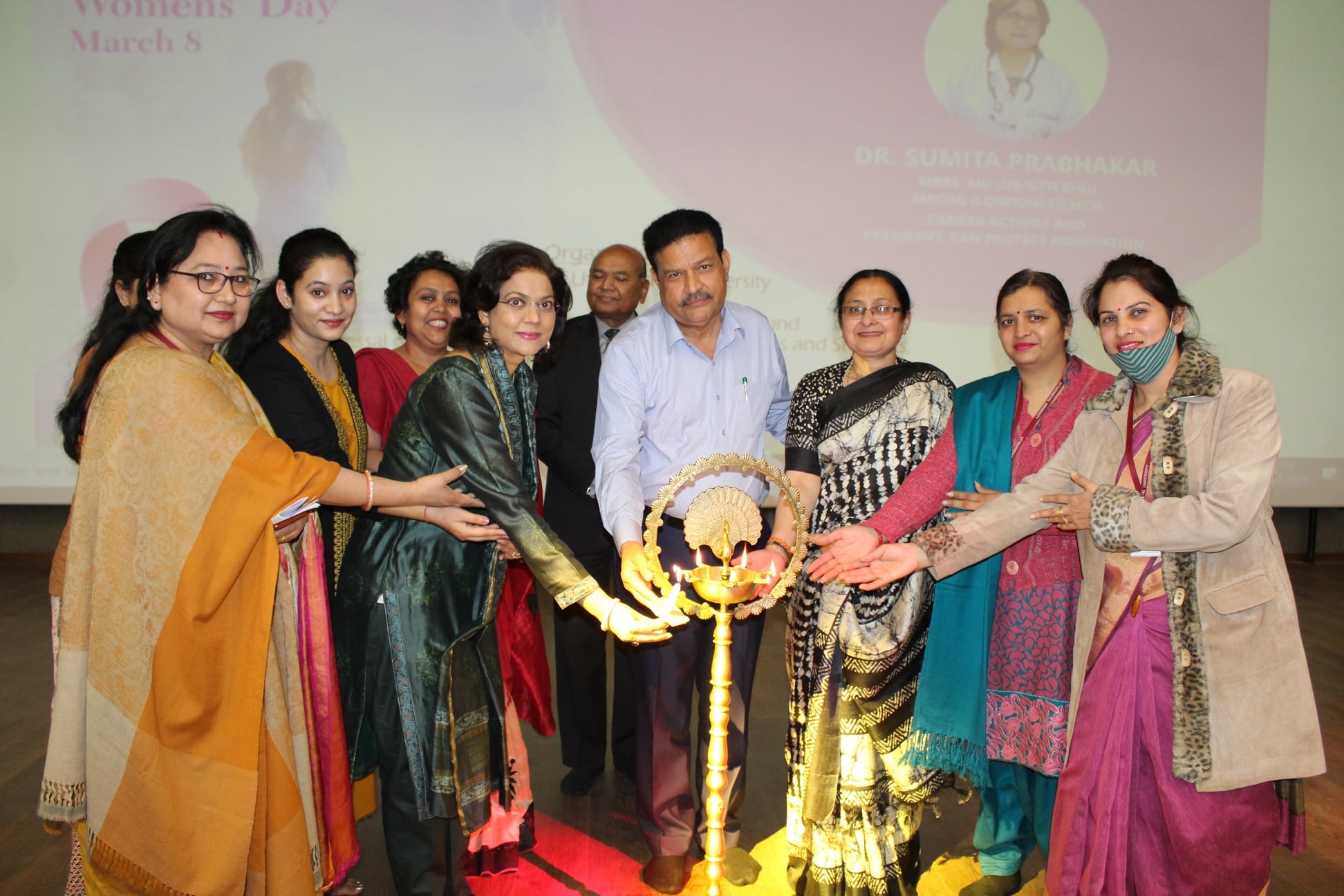 Over a hundred female students and faculty members from Uttaranchal University Dehradun attended the workshop. Dr Sumita Prabhakar, a senior gynaecologist and founder of the Can Protect Foundation, discussed the symptoms and procedures for detecting breast cancer early and preventing cervical cancer through routine pap smear tests and other health screenings.
Dr. Sumita Prabhakar stated, "The risk of breast and cervical cancer is increasing at an alarming rate in Indian women." Previously, breast cancer was mostly diagnosed in women aged 45–50 years, but due to our sedentary lifestyles and irregular eating habits, women in the age group of 25–35 years are now being diagnosed with the disease.
To educate students about breast cancer symptoms, she stated, "Lump in the breast, bloody nipple discharge, inverted nipple, rashes, nipple pain, thickening of the nipple or breast skin, and pain in the breast area are all might be the symptoms of breast cancer." The most common is a breast lump but most lumps are not cancerous. Additionally, the disease may be hereditary. It is recommended that all women perform a monthly self-examination of the breasts and contact their doctor if they notice anything unusual; they should also undergo a mammogram on a regular basis according to the guidelines to ensure that the disease is diagnosed in a timely manner. Breast cancer can be completely cured if detected early." She had an interactive session with the students and faculty at the end of her talk wherein she addressed the queries of the students.
The critical need of the hour is to raise public awareness about the critical nature of early disease detection. 80% of women who are aware of the symptoms can detect breast cancer on their own. When a woman notices any of the breast cancer symptoms, she should immediately consult a gynaecologist or oncologist for proper and timely treatment.
On this occasion, a large number of women also downloaded the Can Protect mobile app "Can App" from the Google Play Store. With the help of this mobile app, it becomes easy to identify the symptoms of breast cancer and cervical cancer. Along with this, this mobile app helps in identifying many other health-related problems of women.
We are thankful to Prof. (Dr.) Bharti Ramola Head-Women Sexual Harassment Redressal Cell UIT,  Ms. Madhu Kairola, Coordinator – Women Cell, UIT and Ms. Aarti Rana Member – Women Cell UIT for their support organising this workshop. We are so much thankful to the management of the Uttaranchal University for supporting the breast and cervical cancer awareness cause.